Custom Toffee Gifts
Discover unforgettable toffee experiences for weddings, showers, and corporate gifts at Toni's Toffee. Elevate your events with our gourmet, handcrafted indulgence.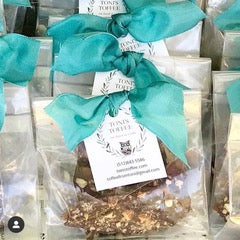 Weddings and Showers
Elevate your wedding day with the exquisite indulgence of Toni's Toffee. Our handcrafted toffee creations make perfect wedding favors, adding a touch of elegance and decadence to your special day. Delight your guests with the irresistible flavors of our gourmet toffee, beautifully packaged and personalized to reflect your unique style. Each bite of our artisanal toffee is a moment of pure bliss, leaving a lasting impression and creating cherished memories. Make your wedding favors truly unforgettable with Toni's Toffee, where love and sweetness come together in perfect harmony.
Contact Us
Corporate Events and Gifts
Whether you're celebrating a special occasion, sending a heartfelt gift, or simply satisfying your sweet tooth, our small toffee gift boxes are the ideal choice. Experience the joy of giving and receiving the best toffee available, lovingly packaged in a stylish and elegant box.
Contact Us